Gold Wing from Honda
---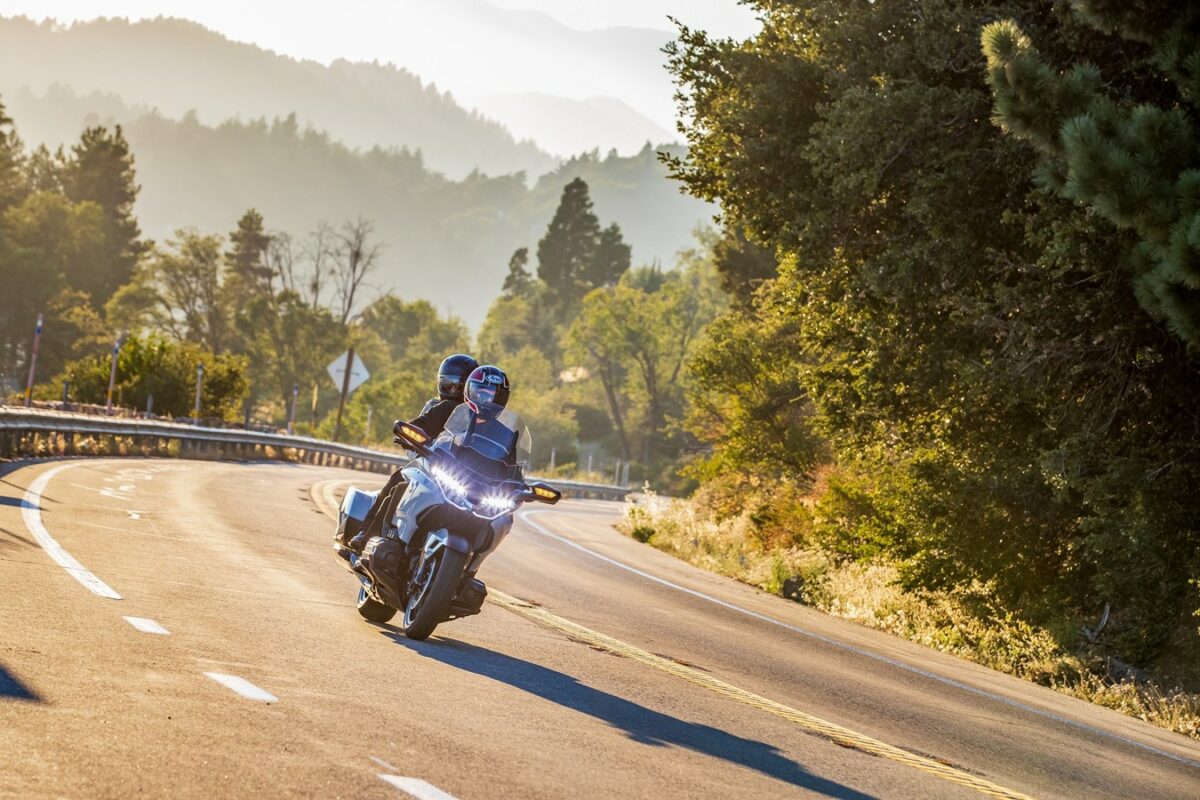 The Gold Wing from Honda – what's happened so far…
The Gold Wing was introduced in 1975by Honda as a 1000cc naked bike and has since evolved into the two-wheeled non plus ultra for the long haul. Generations of developers ensured that it has always remained true to itself. Over the decades, the Gold Wing always gained in size and displacement. In addition, the engineers continually raised the Gold Wing to the next level in terms of luxury, quality and comfort, setting it further and further apart from the competition.
Little side note: Our boss wasn't even born in the year of publication….
What did the 2000s bring for the Gold Wing?
In 2018 the GL1800 and Gold Wing "Tour" were fundamentally evolved and redesigned to meet changing customer needs and the motorbike market. Thus, the models became leaner, lighter and more agile. Many new features strengthened their reputation as technology flagships. These also include the optionally available 7-speed dual clutch transmission (DCT).
The revised Gold Wing from Honda has since attracted the attention of a wider and younger target group. Motorcyclists who previously had nothing to do with the Gold Wing now realised what it was made of.
The years 2020 and 2021 brought changes
In 2020, Honda revised the chassis and improved handling at lower speeds. In addition, a powerful heart has been beating in the premium tourer ever since: an impressive six-cylinder boxer engine.
Since 2021, the technical forerunner has been bristling, for example, with:
7-inch TFT display,
gyrocompass navigation,
Apple CarPlay™, Android Auto™,
electric screen,
smart key operation,
4 driving modes and Hill Start Assist.
Another highlight: it shines in a new livery.
Gold Wing from Honda means individuality
Honda's press team has sent us some photos of the latest version of the Honda Gold Wing, so you can take a look at the bike
.
Few Gold Wings you see on the road shine in their standard equipment; rather, each owner rebuilds their machine to suit their individual needs.
If you want to customise your motorbike, we will be happy to assist you.
Technical data
Remember the car or motorbike maps. In the game, it always came down to using the best technical data of one's own card to take one's card from the other player. We have recorded the technical data of the Honda Gold Wing here.
Technical data
ENGINE
Type
Liquid-cooled, 4-stroke 24-valve 6-cylinder boxer engine (SOHC)
Displacement
1. 833 cc
Valves per cylinder
4
Bore & stroke
73 mm x 73 mm
Compression
ratio
10.5:1
Max. Power
126 hp (93 kW) at 5,500 rpm
Max. Torque
170 Nm at 4. 500 rpm
Engine oil quantity
4.4 l (manual gearbox) / 5, 6 l (DCT)
CO2 emissions
127 g/km
FUEL SYSTEM
Mixture preparation
Electronic fuel injection
PGM-. FI
Throttle-
Diameter
50 mm
Air filter
Paper viscose filter element
Tank capacity
21, 1 l
Consumption
5, 5 l / 100km
ELECTRIC
Starter
Integrated Starter Generator Unit
Battery Capacity
12V/20AH
ACG / Alternator
12V/120A
DRIVE
Clutch Type
Shift Transmission
Hydraulically operated, wet-running, multi-plate clutch in oil bath, assist slipper cam
clutch type
automatic transmission
(DCT) hydraulic, wet-running, multi-disc in oil bath (double clutch)
Gearbox type
6 speed manual gearbox including overdrive and with electric reverse gear
7 speed DCT gearbox including reverse gear
Primary gear ratio
1. 795 (79/44)
Gear ratios
Automatic
.

1st: 2,167
2nd: 1,696
3rd: 1,304
4th: 1,038
5.: 0.821
6.: 0.667
7.: 0.522
Reverse gear: 1.190

Gear steps
Manual gearbox

1st: 2.200
2nd: 1.417
3rd: 1. 036
4.: 0.821
5.: 0.667
6.: 0.522

Final gear ratio
at engine: 0.972
at rear wheel 2. 615
Power train
Gear drive
FRAME
Type
Aluminium-. Bridge frame
CHASSIS
Dimensions
(L x W x H)
L: 2. 475 mm
W: 925 mm (DCT) / 905mm (MT)
H: 1,340 mm
Wheelbase
1. 695 mm
Head angle
30.5°
Track
109 mm
Turning circle
3, 40 m
Seat height
745 mm
Ground clearance
130 mm
Weight (full tank)
Gold Wing: Manual gearbox 366 kg
DCT 367 kg
Drive train
Front
Double-. Wishbones
Rear
Pro Link
WHEELS
Front
130/70R 18
Rear
200/55R 16
Rim size front
18 x MT3, 5
Rear rim size
16 x MT6, 0
BRAKES
ABS system type
Electronically controlled combined ABS system
Front
320 mm x 4.5 mm hydraulic double disc with 6-piston caliper, floating brake discs and sintered metal pads
Rear
ventilated disc with 3-piston caliper and sintered metal pads
All data according to. Manufacturer's liability excluded