Swallow's nest at Cars & Bikes Fochtmann
---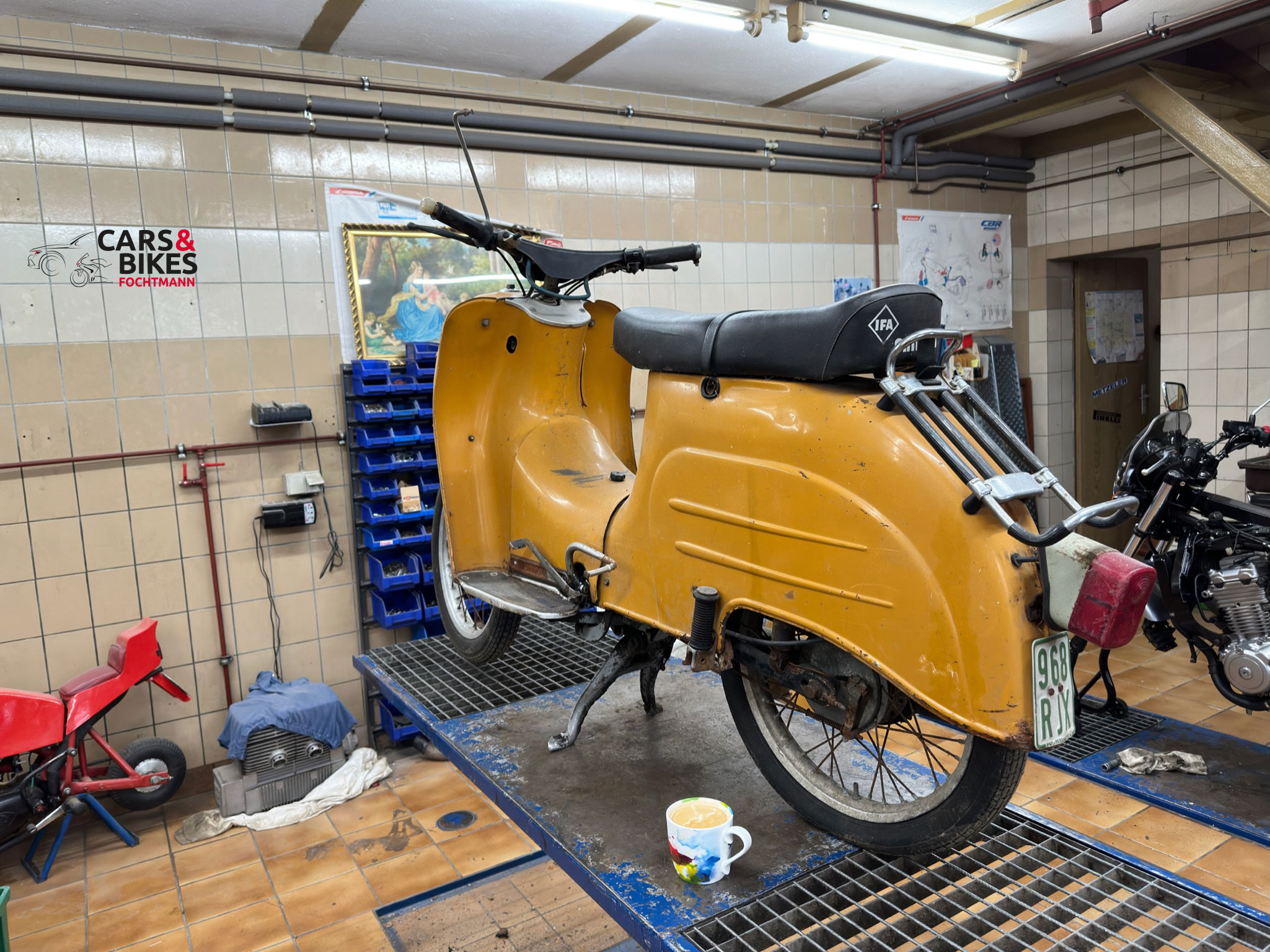 Welcome to the Swallow's nest
If you are now wondering whether we have found our way to ornithology or whether we want to talk about the summer, we unfortunately have to disappoint or delight you. We, Kai, Sporti and I started a project called "Schwalbennest" and bought four swallows.
In the coming days, weeks and months we will take you on the way from the purchase of the swallows, to the inventory, the restoration. Here we show you what we have done, which challenges (aka problems 😉 ) we have overcome and how we are proud of our work.
Who lives there?
Four swallows have moved into the former motorcycle workshop in Großweitzschen. Two machines from the KR51/1 F series have found their way to us. We will restore them. Two motorcycles from the KR51/2 N series have also found their way to us. Here we will make adjustments for our own needs. Unfortunately, we can not give any information about the mileage, but we can definitely introduce you to the differences between the two series.
Differences in the series
Before we go into the details of the machines, let's briefly introduce you to the history of the Schwalbe:
The Simson Schwalbe was built as a successor to the Simson KR 50. The swallow was the first model in the bird series, which was continued by sparrow, starling, sparrowhawk and hawk . Many parts of the Simson KR51 – the official type designation – can be found in the equally iconic, three-wheeled "Krause Duo".
By the way, the designation KR51 is not a secret code; rather, on the one hand, the category KleinRoller, as well as the displacement of 50 cm³ (more precisely 49.6 cm³ to 49.9 cm³) and the 1 served to distinguish it from the predecessor model.
Over 1,000,000 units were built in different series between 1964 and 1986. Price lists in DM are searched in vain. The Schwalbe was not officially exported by the manufacturing vehicle and hunting weapon factory "Ernst Thälmann". Despite the cruising speed of up to 60 km/h, the cult scooter from Suhl in Thuringia can be driven with a class AM driver's license. An exemption makes this possible.
Now let's go into detail:
Technical data
Model KR51/1 F
Model KR51/2 N
Construction period
1968-1980
1980-1986
Engine
M53KFR
M531KFR
Displacement
49.6 cm3
49.9 cm3
Compaction
9,5:1
9,5:1
Performance
2.65 kW (3.6 HP)
at 5700 rpm
2,7 kW (3,7 HP)
at 5,000 rpm
Torque
4.71 Nm at 5000 rpm
n/a
Cooling
Centrifugal blowers
Airstream
Circuit
3-speed
foot shift,
manual clutch
3-speed
footshift
Weight
79 kg
80 kg
Maximum speed
60 km/h
60 km/h
Quantity
350.000
90.800
Source: Wikipedia
What happens next?
The four swallows are completely dismantled. All parts are checked, repaired if necessary or replaced if necessary. In the end there are two machines that we will sell (more on that later) and two swallows will stay with us as absolute eye-catchers.
If you want to know what's next, follow us on Instagram or Facebook. If you have any questions, comments or tips for us, we look forward to hearing from you.